Queer Campout is about co-creating a community that builds on our connections and caring. We work to celebrate and learn from each other in ways that nurture us and support community growth and sustainability. We aim to create a space where it's OK to be imperfect, make mistakes, and give each other a chance to reflect and fix our mistakes. When we miss the mark on our values, we will listen with humility, acknowledge our mistake, address its impact to the best of our ability, and work together as a community to be accountable to each other.
To support each other in this process, we ask that all participants agree to the values and guiding principles of the group and adhere to the Community Participation Guidelines.
Our Anti-Oppression Values
Queer Campout intends to be an inclusive, consensual, and anti-oppressive space, meaning we actively work against racism, ableism, transphobia, fatphobia, classism, sexism, white saviorism, xenophobia, and other forms of systemic oppressionThis link opens an external site in a new tab..
Inclusivity and accessibility require that we center the people who are historically an afterthought. This means we strive to be at campgrounds where people with limited mobility can participate in most activities. It means continuing to practice some precautions around COVID after many others in U.S. society and government have deemed it no longer important to consider the health of immunocompromised people. It means addressing white supremacyThis link opens an external site in a new tab., patriarchy, and other systemic oppression head-on, through a transformative justiceThis link opens an external site in a new tab. lens when possible.
Inclusivity and accessibility mean we address the multiple disparities that keep marginalized people out of safety and community. As uplifted in the Combahee River CollectiveThis link opens an external site in a new tab. statement, "If Black women were free, it would mean that everyone else would have to be free since our freedom would necessitate the destruction of all systems of oppression."
Tiered Registration Process
In line with our views on inclusivity and accessibility, we have a tiered registration process. For those of us who are more marginalized in broader society, gestures like prioritized registration can indicate greater intentionality in setting a welcoming container. We may be more inclined to join or bring our people if we see that others who share our identity are signing up. Particularly when there are fewer camping spaces than those who sign up, tiered registration allows for a more equitable balance of participants who may otherwise need greater assurances to know we can participate fully before registering (whether that's clarifying questions about our disabilities, ensuring we can access camping supplies if we don't have the financial privilege to own equipment, or talking to our crew of QTBIPOC to know we'll have some known people there when we show up to a queer space that has historically been majority white).
Donations to Indigenous Groups
We donate part of the proceeds to a New Mexico Indigenous group or project because many of us are settlers on unceded, occupied Indigenous land, and we feel it is essential to uplift and financially support radical work by Native organizers. The organizers of the Honor Native Land TaxThis link opens an external site in a new tab. talk about it as "a chance for settlers to make an ongoing contribution to Indigenous movements for land, water, and futures." We are invested in supporting these crucial movements that are the reason we can enjoy the beautiful lands we camp on.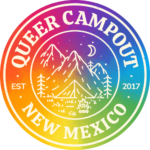 "What if I disagree with these values or don't follow the participation guidelines?"
"In struggle that is principled, we struggle for the sake of building deeper unity, we are honest and direct while holding compassion, we each take responsibility for our own feelings and actions, and seek deeper understanding by asking questions and reading a text (such as an article or proposal) before we launch our counter argument."
—N'Tanya Lee of Left RootsThis link opens an external site in a new tab.
We all experience many and varied intersections of privileges and oppression. If you don't care for or follow the Community Participation Guidelines or are otherwise acting and/or speaking in a way that is hurtful to someone, that behavior is not welcome, and you may be asked to have a conversation about it.
We are all learning to do this together and will make mistakes. We recognize that these conversations are uncomfortable, difficult, brave, and vulnerable. We ask that you show up to these conversations open to listening and learning with a spirit of accountability and humility. It's normal for our nervous systems to become agitated during these times. We will take body breaks and keep coming back to the conversation until movement is made toward a resolution aligned with these values.
At QCO, we believe being called into a conversation is an act of love and labor. By being part of this space, you agree to show up for these conversations—or you will be asked to leave the site and may not be invited back to future QCO events.
We invite and expect you to have these conversations in your own way and in your own time, in your campsites, during any activities you take part in or create, and even on the ride home from camping. We are a loose-knit, small group of volunteers and may not be able to facilitate every incident that may arise. By naming these shared values, we hope to have a space where we can all navigate discomfort and hurt together in a way that builds and strengthens our communities.
"We live in a nation that is both pro-war and conflict-avoidant. It's hard to learn how to be in righteous disagreement without either repressing our differences or trying to destroy each other. But principled struggle offers us another way, a way to struggle in which we are not being conflict avoidant, or conflict aggressive, but rather engaging in generative conflict, conflict that grows each of us and that creates more possibilities for what we can do in the world together. When we put our attention on conflict and difference in this way, it allows us to grow our capacity to be in integrity and unity with each other."
—adrienne maree brown on Principled StruggleThis link opens an external site in a new tab.